Stop Basement Leaks in Their Tracks
Halt stubborn basement leaks in their tracks with our trusted solutions and proven techniques, ensuring a dry, secure, and serene home environment.
Is Your Basement Leaking?
Don't let your basement drown! Find immediate relief from leaks today and reclaim a dry, secure, and worry-free space.
Don't Let Leaks Dampen Your Spirits
Escape the clutches of dampness, reignite your joy, and defy leaks to revitalize your spirit with renewed vigor and enthusiasm.
BEST EXTERIOR WATERPROOFING SERVICES
Toronto Exterior Waterproofing Contractors
Concerned about protecting your home's foundation from water damage in Toronto? Wondering how to keep groundwater out of your basement? Look no further! Exterior waterproofing is the answer, eh! By upgrading the exterior surface with top-notch drain systems and sealing cracks, we ensure that your basement stays dry and your home remains safe. Don't let water accumulation and questionable drainage compromise the integrity of your home. Call Us!
Why Torontonians Choose Us
If you're in need of top-notch exterior basement waterproofing services in Toronto look no further! We're just around the corner, so a quick online search for "IcyReno Waterproofing Company near me" will lead you straight to us. Trust our expertise to safeguard your home's foundation from water damage. Choose us as your go-to experts for all your exterior basement waterproofing needs!
Dedicated & Licensed Professionals
Leader in Exterior Waterproofing
Quick Response to Queries
From Permits to Materials – We Take Care of Everything!
Full Planning & Project Management
Bonded & Insured Team
Learn More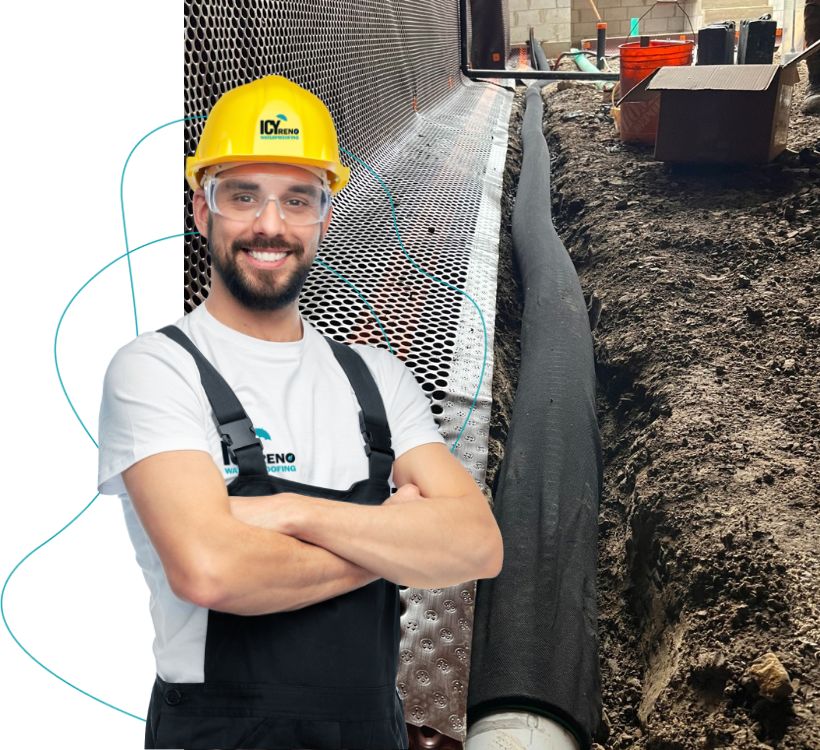 Get rid of unwanted water
Benefits of Exterior Waterproofing
Disaster, most of the time, comes unannounced! By investing in preventative measures such as exterior waterproofing, you can save yourself from the anxiety of having to deal with a leaky basement.
Top Benefits of Exterior Waterproofing:
If water gets into your home, it could cause a buildup of mold, which could lead to some severe, long-term health issues. Waterproofing will help keep the water out, so you can help keep yourself and your loved ones safe.
Water build-up can cause flooding in or around your home, causing damage to your landscape, furniture, flooring, driveway, etc. Fixing water leaks as soon as you catch them can save you a lot of money.
Having newly installed draining systems or a repaired foundation can increase the value of your home, providing comfort to future buyers, knowing that they are protected from water leaks for years to come.
Water sitting at the base of your home will eventually seep into other parts of your home. This could include the rotting of wood, which could severely affect the structure of your home, depending on the severity. Waterproofing will protect your home's structure.
Got Questions?
WE ARE THE BEST TORONTO'S WATERPROOFERS!
Common Exterior Waterproofing Methods
Explore the world of exterior basement waterproofing and discover the common methods that can save your basement from water damage. Are you on a quest for powerful solutions to safeguard your home's foundation? Your search ends here! Let's take a thrilling dive into the world of exterior basement waterproofing methods and unearth the perfect solution that will fortify your home in Toronto, Etobicoke, North York or Scarborough against the forces of water!
Excavation and Waterproofing Membrane: One effective method is to excavate the soil around the foundation and apply a waterproofing membrane to the exterior walls. This barrier acts as a shield, preventing water from entering the foundation.
French Drain System: A French drain system is designed to collect and redirect water away from the basement. It involves installing a trench filled with gravel and a perforated pipe that allows water to flow into the drain and be carried away.
Sump Pump Installation: To complement exterior waterproofing, a sump pump is often installed in a pit at the lowest point of the basement. It efficiently pumps out any collected water, preventing flooding and water damage.
Exterior Foundation Coatings: Protective coatings such as waterproofing paints or sealants can be applied to the exterior walls of the foundation. These coatings create a reliable barrier against water penetration.
Landscape Grading and Drainage: Proper grading and drainage around the foundation play a vital role in preventing water pooling and seepage into the basement. This method involves shaping the landscape to slope away from the foundation and installing drainage systems, including gutters and downspouts, to direct water away from the house.
We Provide Our Services All Across Toronto, ON
Our Recent Projects
EXPAND, EARN & STABILIZE WITH EXTERIOR BASEMENT WATERPROOFING
Exterior Waterproofing Cost
When it comes to exterior basement waterproofing, understanding the cost is essential for planning and decision-making. The investment you make today can bring long-term benefits and peace of mind.
The cost of exterior waterproofing depends on various factors, including the size of your basement, the extent of water damage, and the chosen waterproofing methods. While the exact cost may vary, it's important to view it as an investment in your home's future.
By protecting your foundation from water damage, you're safeguarding your property's value and preventing potential costly repairs down the line. Exterior waterproofing is a proactive step towards maintaining the structural integrity of your home and ensuring its longevity.
To get an accurate cost estimate tailored to your specific needs, consult with our experienced team. We'll assess your situation, recommend the best waterproofing solutions, and provide a detailed breakdown of the costs involved.
What are the steps for exterior waterproofing to protect your house from water damage?
Are you tired of dealing with water infiltration in your basement? Exterior basement waterproofing may just be the solution you've been looking for. Exterior waterproofing is the got-to external solution that provides effective protection against water intrusion for your home. By addressing the source of potential water damage from the outside, this method creates a barrier to prevent water from seeping into the foundation.
This method involves taking external measures to protect your home from water damage. Here are the steps involved in exterior waterproofing:
Step 1: Excavation: The first step is excavating the soil around the foundation to expose the exterior walls.
Step 2: Cleaning and Repairs: Thoroughly clean the walls and address any visible cracks or damages in the foundation.
Step 3: Waterproofing Membrane Application: Apply a waterproofing membrane to the exterior walls. This membrane acts as a barrier, preventing water from seeping into the foundation.
Step 4: Drainage System Installation: Install a drainage system, such as a French drain, along the perimeter of the foundation. This system collects and redirects water away from the house, keeping the foundation dry.
Step 5: Sump Pump Installation: Consider installing a sump pump in a pit at the lowest point of the basement. The sump pump helps to remove any water that accumulates, preventing potential flooding and water damage.
Step 6: Landscape Grading: Ensure proper grading around the foundation by shaping the landscape to slope away from the house. This directs water away from the foundation and prevents pooling.
Step 7: Gutters and Downspouts: Install gutters and downspouts to collect rainwater from the roof and channel it away from the foundation.
Step 8: Regular Maintenance: Regularly inspect and maintain the exterior of your house, including sealing visible cracks or gaps and addressing any drainage issues.
Let Us Know if there's Anything Else We Can Do To Help.
Frequently Asked Questions