Tired Of Dealing With A Wet Basement?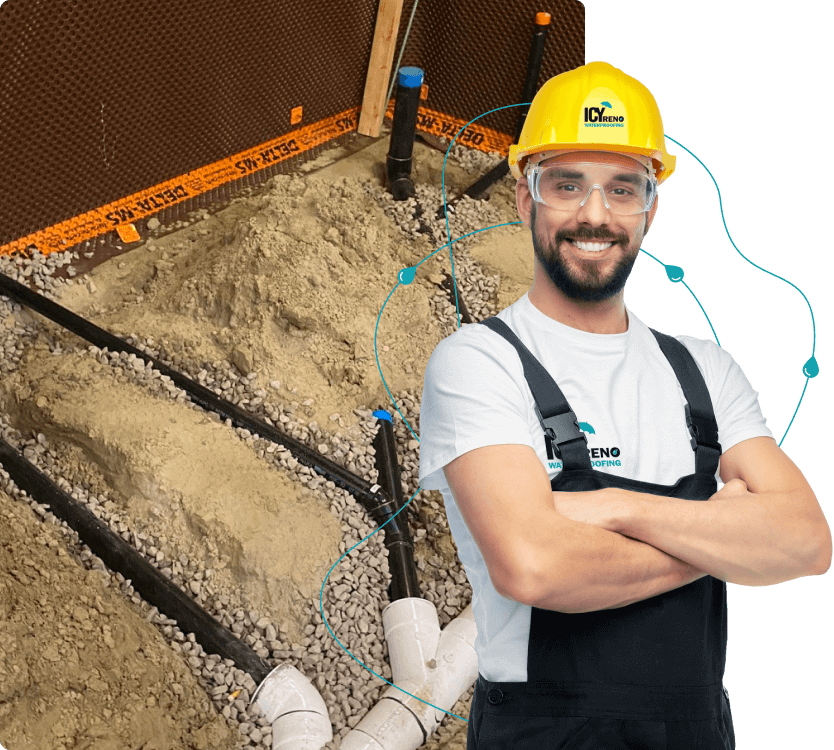 What Makes Us the right people for the job
Drainage System Experts
The main drain lines of a home are responsible for carrying away wastewater from the bathrooms, kitchen and laundry.
These drain lines can get clogged because of debris buildup, tree roots, mineral build up, collapsed drains and more. We have a thorough inspection process that is conducted using the latest video technology. With video cameras, we identify and scope out leaks or blockages and determine their extent and location. Our video camera inspection enables us to avoid unnecessary excavation and allows us to offer you solutions that make most sense for your needs.
Sewage System: A home's sewage system consists of a network of pipes that transport wastewater away from the house. The drain line is responsible for carrying waste and water out of the home and into the municipal sewer or septic system.
French Drains: French drains are underground drainage systems designed to divert water away from low-lying areas. They are an ideal solution for managing excess water accumulation in yards or around homes.
Floor Drains: Most commonly found in bathrooms, laundry rooms, and basements. In addition, they can be used in garages and workshops to collect any water that may pool on the floor due to rain or snowmelt.
We also take care of drains in the basement under the concrete. They are designed to divert rainwater away from the foundation of your home, helping to prevent costly and inconvenient damage from water seepage. We also utilize sewer ejector pumps during basement lowering, as they provide the necessary water pressure to move sewage from lower depths of the home up to the sewer line. When it comes to a variety of effective drain systems, we are your trusted experts!
Why Choose Us?
Experienced Team of Basement Contractors
Video Camera Inspection
From Permits to Materials – We Take Care of Everything!
Full Planning & Project Management
Thousands Of Happy Clients
Learn More
PROTECTING YOUR HOMES FROM THE OUTSIDE, IN
The Benefits of a Drainage System
Why do you need a drain system? Water damage is a leading household problem for homeowners. Water can seep into your home very abruptly and can create a lot of collateral damage to your home and your loved ones. Often times, it only takes one major rainstorm for you to wake up to water flooding your basement. Drain systems are great proactive and reactive measures. If you are already dealing with water in your home, these systems can help remove the water and ensure it cannot find a way back in. If you have been fortunate enough to not have water leaks, it is still a good idea to consider investing in a drain system – your future self will thank you for it!
Top Benefits of Drain Systems:
Keep water out of your home. Water damage is no joke. Take the correct measures to ensure water stays out of your home, to prevent any further, long-term damages.
Increase the value of your home. With a new drainage system in place, you give potential buyers one less thing to worry about.
Eliminate mold. Water damage can breed different types of mold that can have serious, long-term health affects.
Save money on collateral damage. Water damage could also affect your walls, floors, furniture, etc., racking up absurd repair and replacement costs.
Peace of mind. Rest peacefully knowing that your home and your loved ones are protected from water damage.
Have Questions?
Savings for Toronto homeowners
Basement Flooding Protection Subsidy Program
Homeowners of single-family, duplex, or triplex residential properties can apply online for a subsidy of up to $3,400 per property. The following types of work are eligible: installation of a backwater valve; installation of a sump pump; plus severance and capping of an external weeping tile connection or storm sewer line.
The Rebate Includes:
Installation of alarm for sump pump.

Installation of backup power for sump pump.

Installation or replacement of sump pump.
Rebate Details
have a question that isn't listed here? Contact us!
Frequently Asked Questions