BEST BASEMENT WATERPROOFING SERVICES

Toronto Basement Waterproofing Contractors
Basement flooding can be a homeowner's nightmare. Waterproofing protects against water intrusion and prevents damage like rot, rust, and mold growth. Moisture can also cause structural issues like wall cracking or foundation shifting.
Why Torontonians Choose Us
"Looking for Basement Waterproofing Services Near Me?" Look no further, as we are just around the corner, ready to assist you in your time of need. The Search is Over – IcyReno Waterproofing is the most-trusted and dependable basement waterproofing company in Toronto for water damage restoration solutions. Choose us for the ultimate basement waterproofing solution.
Dedicated & Licensed Professionals
Leader in Basement Waterproofing
Quick Response to Queries
From Permits to Materials – We Take Care of Everything!
Full Planning & Project Management
Bonded & Insured Team
Learn More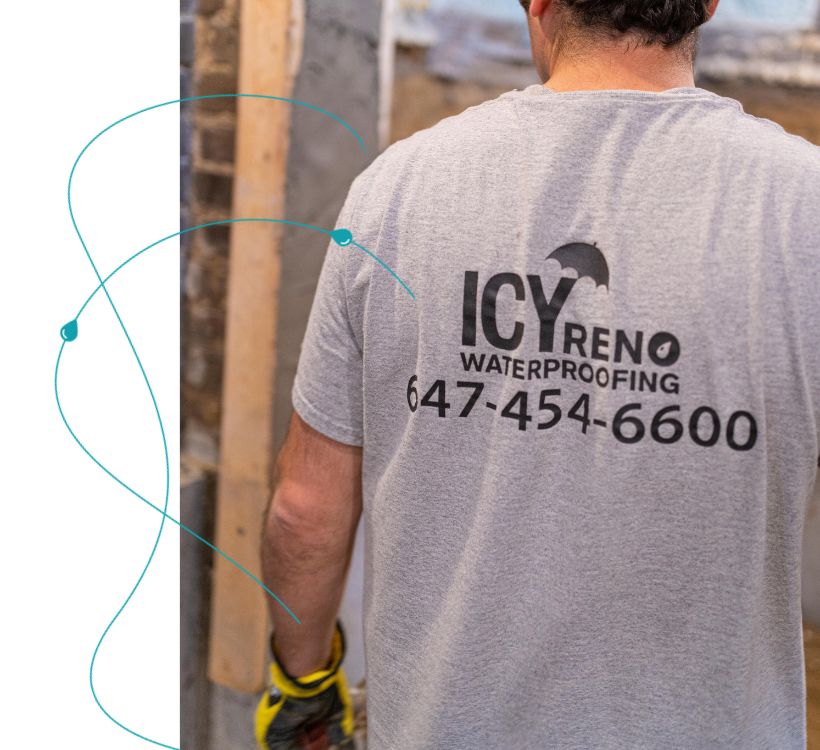 Creating Stress-Free Solutions, One Fix At a Time
Basement Waterproofing Benefits
As a homeowner, why should I consider basement waterproofing?
By taking the right steps to ensure your basement is properly protected with waterproofing, you can help protect your property from potential water damage and keep energy costs down at the same time!
The benefits of Basement Waterproofing:
Increases the value of your property by preventing water damage and keeping your basement dry and safe
Prevents mold and mildew growth, which can cause health problems
Helps control humidity, which can improve air quality in your home
Prevents structural damage that can be expensive to repair
Protects your belongings, appliances, and valuables from moisture damage
Makes it easier and safe to use the basement for a variety of activities
Got Questions?
WE ARE THE BEST TORONTO'S WATERPROOFERS!
Common Basement Waterproofing Methods
What is Waterproofing?
Waterproofing is the art and science of rendering a structure impervious to the deleterious effects of water. This technique involves the use of various materials, coatings, and methods to create a robust and impenetrable barrier against water intrusion. The process of waterproofing is typically applied to critical areas of a building, including basements, foundations and walls, to prevent water penetration and the resulting damage. By employing effective waterproofing techniques, buildings and structures can be protected from moisture, leaks, dampness, and other related issues, which in turn enhances their durability, longevity, and overall structural integrity.
What is Damp-Proofing?
Damp-proofing is a construction technique that involves the use of various materials and methods to prevent the penetration of moisture into a building or structure. Unlike waterproofing, which aims to create a completely watertight barrier, damp-proofing aims to limit the amount of moisture that can penetrate a surface. Damp-proofing can be achieved through various methods, such as applying special coatings, membranes, or chemical treatments to surfaces like walls and floors. Damp-proofing is typically used in areas of a building that are exposed to moisture but are not at risk of being submerged in water, such as basements, crawl spaces, and foundations. By preventing the intrusion of moisture, damp-proofing helps to mitigate issues such as mold growth, rot, and deterioration of building materials, ultimately contributing to the longevity and structural integrity of a building.
Damp-proofing vs. Waterproofing Your Basement
Basement damp-proofing and basement waterproofing are two methods used to address moisture issues in basements, but they serve different purposes. Basement Damp-proofing is designed to limit moisture passage through surfaces, preventing dampness and condensation in the basement. It involves the application of coatings or sealants and is suitable for areas not at risk of significant water exposure. Basement Waterproofing, on the other hand, creates a watertight barrier around the basement using materials like membranes, sealants, and drainage systems. It provides comprehensive protection against water intrusion and is suitable for areas at risk of significant water exposure or when maximum protection is desired.
Ultimately, choosing between basement damp-proofing and basement waterproofing depends on factors such as basement location, potential water sources, and desired level of protection.
There are two main methods of basement waterproofing – Interior Waterproofing and Exterior Waterproofing. For effective basement solutions, consulting with a professional basement waterproofing company can help you determine which method is right for your home and provide you with the best solution to keep your basement dry and healthy.
We Provide Our Services All Across Toronto, ON
EXPAND, EARN & STABILIZE WITH BASEMENT WATERPROOFING
Basement Foundation Cracks
Cracks in your basement foundation can lead to costly water damage, mold growth, and insect infestations. IcyReno's basement waterproofing solutions seal existing cracks and prevent future water penetration, ensuring your basement remains dry and healthy. Early detection and addressing of foundation damage is crucial to avoid more expensive repairs later. Our professional team can identify potential issues and offer comprehensive waterproofing plans to reinforce weak areas and protect your home from damage.
Here are some signs of a bad basement condition:
Cracks in the walls or floor
Doors and windows jamming or sticking
Unusual odors coming from the basement
Visible mold or mildew growing on walls and floors
Uneven floors/floors that slope in one direction
Water leakage coming from the foundation, walls, or floor
Protection Against Water Seepage
Basement water damage from seepage is a common issue for homeowners in Canada. It can also weaken the structure of your basement, leading to cracking and shifting walls or foundation. Our waterproofing system blocks water from entering through pores and cracks, using materials like coatings, gels, and injection foams.
Proper drainage diverts rainwater away from your home, ensuring even the wettest weather won't flood your basement. Breathe easy with improved indoor air quality. By waterproofing your basement, you can protect against leaks and prevent long-term damage to your home.
A Wet Basement Can Lead To Mold!
Wet basements often lead to mold growth due to high levels of moisture which can harm your residential property and cause mold growth, structural damage, and health concerns due to poor indoor air quality.
Leaking pipes, poor drainage, and humid environments can all contribute to this issue. Mold can cause respiratory problems and allergies, making basement waterproofing crucial. By preventing moisture from entering, you can significantly reduce the risk of mold growth and create a healthier living environment. That's why it's important to take action and invest in a high-quality waterproofing system that will keep your basement dry and protected. With our proven methods and top-quality materials, we can help you to say goodbye to your basement leaks and enjoy a safer, healthier home.
Drainage For Proper Basement Waterproofing
Proper basement waterproofing necessitates the implementation of efficient drainage systems, which play a crucial role in managing water around and beneath the basement to prevent water accumulation and potential damage. A well-designed drainage system directs water away from the foundation, reducing hydrostatic pressure and the risk of water seepage. This typically involves the installation of exterior measures to ensure proper water flow and diversion. Furthermore, interior drainage systems like sump pumps and drain tiles can enhance water management within the basement.
With IcyReno Waterproofing being one of the top choices in the Toronto area, including Etobicoke, Scarborough and North York, we offer comprehensive solutions for basement waterproofing. Our experienced team conducts thorough inspections and delivers tailored waterproofing strategies to meet the specific needs of your basement. Rest assured, with our top-notch services, your basement will remain dry and protected.
Entrust our waterproofing company to safeguard your basement and enjoy the peace of mind you deserve. Call us today to schedule a free consultation and take the first step towards securing a dry and protected basement.
Frequently Asked Questions