TOP RATED BASEMENT LOWERING SERVICES

Toronto Basement Lowering Contractors
How much does basement lowering cost in Toronto? Living in Toronto, Etobicoke or Scarborough is a dream for many, and buying a home there is a cherished goal. After becoming a homeowner, you're constantly seeking ways to maximize space for your family's enjoyment or generate passive income. Basement lowering is an excellent choice to make your investment truly worthwhile.
Why Torontonians Choose Us
Looking to transform your basement into a stunning space? Look no further than Icyreno's basement contractors. Renowned as Toronto's top choice, our expertise sets us apart. With utmost trust, allow us to turn your visions into a splendid reality using our bespoke lowering services. Contact us now for a joyful, renovated basement experience.
Dedicated & Licensed Professionals
Quick Response to Queries
Leader in Basement Lowering and Foundation Work
From Permits to Materials – We Take Care of Everything!
Full Planning & Project Management
Bonded & Insured Team
Learn More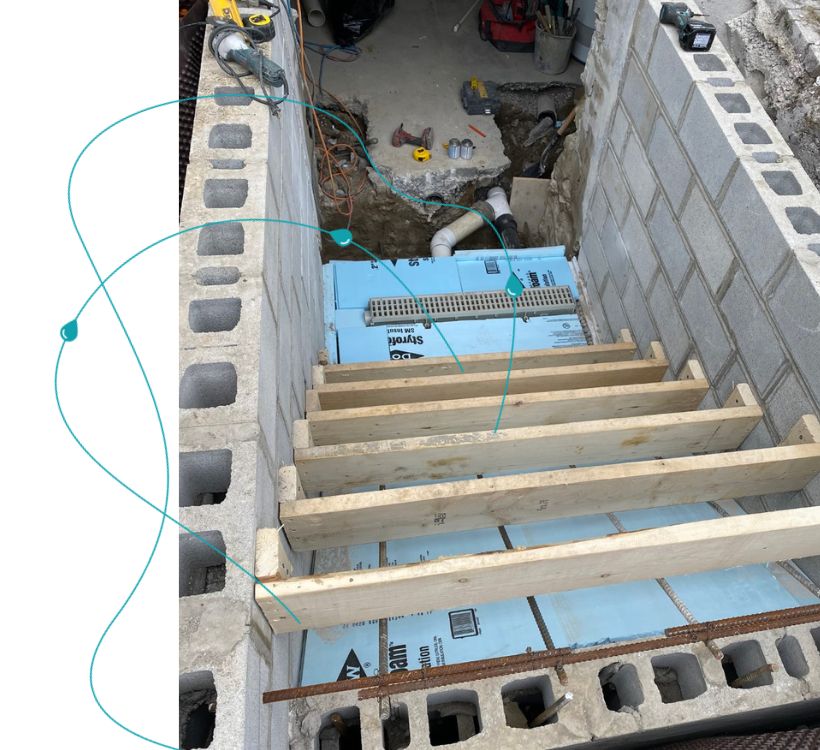 Creating Stress-Free Solutions, One Fix At a Time
The Benefits of Basement Lowering
As a homeowner, why should I consider lowering my basement?
Homeowners should consider basement lowering if they want to create more living space in their home. It is a great way to add value and usability to your home, as well as creating additional storage space for items that typically take up space in the main living areas. Basement lowering projects are also relatively inexpensive compared to other remodelling projects.
Additionally, if you have problems with water drainage or flooding in your basement, lowering it can help address these issues by providing better protection for the foundation and walls. It can also reduce mold and mildew buildup since the new lower level will provide easier access for cleaning.
Benefits of Basement Lowering:
Increased Square Footage – Basement lowering allows homeowners to increase their usable space without needing to go through the costly process of building an extension. This addition can add a great deal of value to a home by providing more living space where space may have been previously limited.
Improved Visual Appeal – Basement lowering can result in a more aesthetically pleasing basement area with increased natural lighting. Not only does this create a warm and inviting atmosphere in the basement, but it also improves the overall curb appeal of the home if visible from outside.
Better Accessibility- Often times, basements can be difficult to access if they are on an incline or have several steps leading up to them. By lowering the basement floor, homeowners can gain much easier access and increased safety when entering and exiting their basement area.
Added Value – A reinforced or renovated lower-level floor increases the value of your home. With more living space available, when you're looking to sell, potential buyers will be more likely to invest in it.
Got Questions?
WE'RE TORONTO'S BEST BASEMENT LOWERING CONTRACTORS
Common Basement Lowering Methods
Basement lowering is a process that involves excavating the soil beneath an existing foundation to create additional livable space. Skillful excavation and support structures are crucial to ensure the surrounding underground walls and pillars are properly supported. Drainage details and waterproofing measures are also essential to keep the completed area free from water.
Basement lowering offers extra room without the need for moving or adding another story. It's perfect for limited expansion areas, providing additional space for bedrooms, home offices, game rooms, and more, all without requiring extra ground area.
Is it feasible to transform a crawl space into a basement?
Turn your cramped crawl space into a functional basement with our expert crawl space conversion services. Crawl space conversions, or "dig outs," are a great way to turn your old and cramped crawl space into a much more useful basement space.
Our process involves excavating the area beneath your home's crawl space to create a full-sized basement. We reinforce it with concrete or cement floors and walls, ensuring a secure and dry basement.
Key Benefits Of A Crawl Space Conversion Project
Improved Temperature Control: Converting the crawl space into a room adds stability and insulation which can help maintain a more consistent temperature throughout your home.
Increased Value: Home buyers often look for houses with more living space which makes crawl space conversion projects an attractive investment.
Safer Storage: Converting crawl spaces into rooms that can actually be used increases the amount of available storage, keeping potentially hazardous items off the floor and away from children and pets.
Reduced Drafts and Allergens: Sealing up your crawl space helps reduce drafts and allergens, keeping your home cleaner, healthier, and more comfortable overall.
There are several common methods use for basement lowering:
Underpinning: This involves extending the depth of the existing foundation walls to increase the overall height of the basement. It requires careful planning and structural reinforcement to maintain the stability of the building. Read more about basement underpinning methods in Toronto.
Bench Footing: In this method, a series of concrete footings are installed along the perimeter of the basement, creating a stepped or bench-like foundation. This allows for additional headroom and increased usable space.
Floor Excavation: This technique involves removing the existing basement floor and excavating the soil to create a deeper basement. The new floor is then constructed at a lower level, providing more ceiling height.
Combination Approach: Sometimes, a combination of underpinning, bench footing, and floor excavation methods is used to achieve the desired basement lowering outcome. This approach allows for maximum flexibility in creating additional space.
Bench Footing
Bench footing is the most common method in Toronto to lower the basement. By adding bench footings to your foundation, you can lower your basement and provide additional structural support. There is no need to dig under the foundation in order to provide extra height to the basement. As an alternative, bench footings allow you to lower the basement floor level and widen the foundation structure.
How Is Bench Footing Done?
Our basement contractor will design and create a perimeter around the inside of the basement walls.
Next, the foundation will be dug up to the desired depth. When the digging process is complete, we will construct new footings that extend deeper than the new floor.
As soon as the newly constructed walls reach the original basement depth, we will cover them with concrete. This will resemble the effect of a concrete bench extending along the foundation wall of the house.
This 'benching effect' strengthens the foundation and provides it with additional support.
What are the Advantages of using the Bench Footing Technique?
Bench footing is a great option for homeowners who want to save time and money. It doesn't require any changes to the existing foundation walls and involves minimal excavation work. Plus, if you have a shared wall with your neighbour and they don't consent to digging under their foundation, bench footing is a feasible solution. On top of that, it creates an attractive display area with a luxurious appeal – making your basement space inviting for guests or potential tenants.
Things To Consider When Thinking About Bench Footing
Before starting a bench footing project, it is important to take certain precautions.
First, examine the soil on which the house is built. This will affect the foundation of the house and whether a bench footing is suitable.
Second, determine the required depth of the area in question. If a deeper foundation is required, alternative methods may be more suitable than a bench footing.
Thirdly, consider the intended use of the basement or other structure that you are building on top of this footing. Different uses require different strengths in foundations.
Finally, consider maintenance cost in the long run.
A more expensive investment up front may lead to lower costs down the road. Not all homes can support bench footing, so it is important to understand the structure of your house before you begin any work in the basement. Bench footing is an effortless way to lower the basement floor, but if it is done incorrectly, it can cause significant damage to your space in the future.
We Provide Our Services All Across Toronto, ON
EXPAND, EARN & STABILIZE WITH BASEMENT LOWERING
Basement Lowering Cost
Interested in the cost of basement lowering in Toronto? This critical process, essential for converting an unusable space into a livable area, requires careful planning and the skills of professional basement contractors. Obtaining a permit from the City of Toronto and coordinating inspections by qualified engineers are crucial. The good news is that homeowners can typically remain in their property during the basement lowering process.
The stages of the project include
Precise measurements
Excavating the slab up to 3 feet down
Reinforcing the area with bench footing
Installing a waterproof membrane connected to a sump pump
The duration of the basement lowering process can vary between 3 to 6 weeks, and the cost will be determined by the size of your basement. To receive a complimentary estimate, contact us today. We are conveniently located in your neighborhood. Seize the opportunity to maximize the available square footage in your home and make it a valuable investment with our top-notch basement lowering services for repairs or renovations.
Frequently Asked Questions